Texas, the second-largest state in the United States, has rivers, lakes, lowlands, and mountains. Although Texas is generally fairly hot and humid, especially in the summer, it also boasts a wide range of temperatures. Texas may be known for its hot weather, which goes well with its world-famous barbecue, but it also has many freshwater lakes, which can be incredibly refreshing, especially given the hot weather.
Texas is home to many natural and artificial lakes, which provide numerous chances for freshwater fishing and lakeside holidays. These lakes range from a few hundred hectares to more than 100,000 acres. Texas may be home to numerous lakes, yet almost all these bodies of water are man-made or artificial. So, are there any natural lakes in Texas? If so, how many are they? Below, we will explore how many natural lakes the Lone Star State is home to and why the state has more artificial reservoirs than natural ones.
How Many Natural Lakes are in Texas?
Texas is home to over 7,000 lakes, but only one of them is considered natural. Bizarre, isn't it? Texas has more than 7,000 lakes, most in the state's central and eastern regions, and many are close to Dallas. Apparently, there aren't many natural lakes in the state. The only natural lake in the state is Caddo Lake in East Texas, created by a log jam put in place in the early 20th century. But is the second-largest state in the nation really home to just one naturally occurring lake?
The fact that Texas has just one natural lake is widely known among Texans. It's called Caddo Lake, located in East Texas, on the border between Texas and Louisiana. Caddo, however, is merely Texas' largest natural lake. There are several others, although the majority are so small that it is debatable whether they should be considered lakes, ponds, or swamps. Moreover, it's unlikely that you've heard of them because virtually every lake you've heard of is artificial. This incorporates more than 200 more reservoirs around Texas, such as Lake Livingston, Lake Texoma, and Lake Houston. Most of the state's remaining lakes were constructed in reaction to Texas' occasional tendency for its normally calm rivers to flood amid heavy rains.
Natural Lake in Texas: Caddo Lake
A lake and bayou called Caddo Lake separate Texas from Louisiana. It has a size of 25,400 acres or 39.7 square miles, ranking it among both states' largest lakes. Up to the 19th century, the lake served as a settlement for the Caddoans, a Southeastern Native American tribe. The swamp surrounding the lake contains one of the largest flooded cypress trees in the United States, adding to its allure and is the reason it is a conservation area on a global scale. 
However, according to experts, Caddo Lake is more of a swamp. Because of artificial dams, it is gradually transforming into a lake; technically speaking, it is no longer entirely natural.
Despite being the only recognized natural lake in Texas, Caddo Lake is both a natural reservoir and a man-made lake. It was created hundreds of years ago due to the Red River becoming blocked by debris. An artificial dam was built to safeguard the lake that people had previously been residing next to for millennia when the federal government removed the stopper, known as the Red River Raft, in the late 19th century.
What Animals Live in Caddo Lake?
In addition to hosting owls, eagles, frogs, river otters, beavers, bobcats, snakes, and alligators, Caddo Lake is now an internationally protected wetland. It also features over 70 different types of fish, making it a well-liked fishing location. You can go canoeing among groves of moss-covered cypress trees on this lake in northeast Texas while fishing for bass, catfish, and crappie. But you can't swim in the lake since it is one of the most alligator-infested lakes in the country.
How Was Caddo Lake Formed?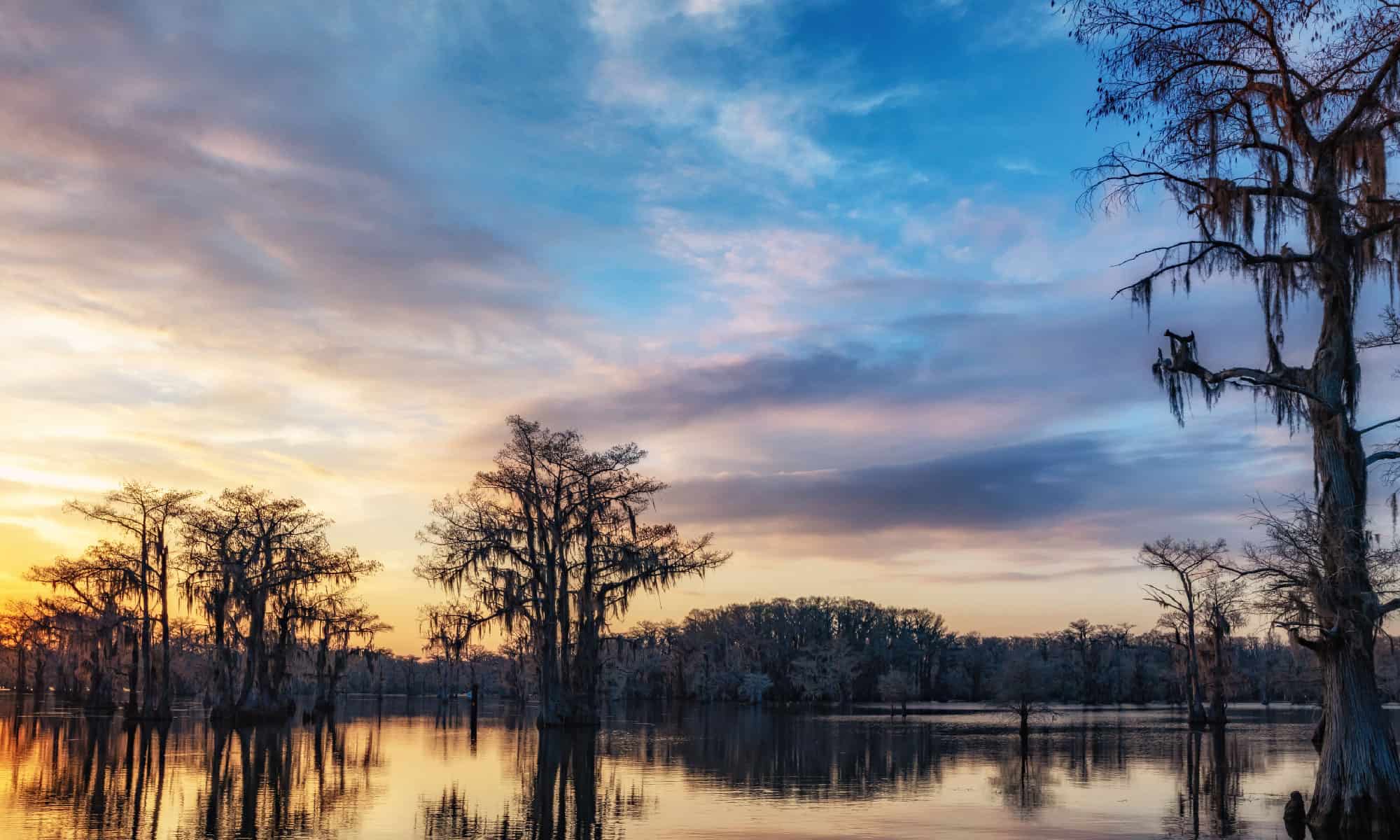 Most geologists believe that the "Great Raft," a 100-mile (160-km) log jam on the Red River in Louisiana, produced Caddo Lake, either gradually or catastrophically, potentially drowning the pre-existing low-lying basin. As Captain Henry Miller Shreve and the Army Corps of Engineers gradually cleared the log jams in the lake and on the Red River, the lake gradually altered shape and eventually dropped over 10 feet, wiping out the East Texas ports and their riverboat industry.
The discovery of oil beneath Caddo Lake brought the industry back to the area. The first over-the-water oil platform in history was finished at Caddo Lake in 1911.
In 1913 and 1914, an ecologist surveyed Caddo Lake and hypothesized that the lake originated between 1770 and 1780 based on an analysis of the cross sections of bald cypress and hardwood trees as well as numerous dead stumps.
Why Are There So Many Man-Made Lakes in Texas?
Devastating floods that claimed lives and destroyed homes and cattle are frequently mentioned in early records of Texas, especially near the Brazos. Officials started constructing dams along Texas rivers in the 1930s and 1940s to establish flood control lakes that would soak up floodwaters and lessen havoc and casualties. As per the Texas Water Development Board, 187 man-made water supply reservoirs greater than 5,000 acres in the state remarkably resemble natural lakes.
The US Army Corps of Engineers was entrusted with creating several additional reservoirs for flood control over the following decades as the demand for such flood control projects built up in the 1950s. Coincidentally, Texas' worst drought occurred in the 1950s, making water supply a second priority for these reservoirs.
In addition to lakes and reservoirs, the state has playas and resacas in its watery repertoire. A reservoir is created by damming a river. In contrast, resacas are tiny lakes produced naturally at horseshoe bends in rivers that were left as independent water bodies when the river changed course. The size of a playa can vary from 15 acres to 800 acres. Despite Texas' limited natural lake resources, many other bodies of water resemble lakes.
|0|https://a-z-animals.com/blog/how-many-natural-lakes-are-in-texas-2/?utm_campaign=feed&utm_source=rss_feed&utm_medium=feed|1|https://a-z-animals.com/media/2022/04/iStock-1144674230.jpg|2|a-z-animals.com|E|